News & Notes: Four Independence Bowl Alumni Among Super Bowl LVII Champions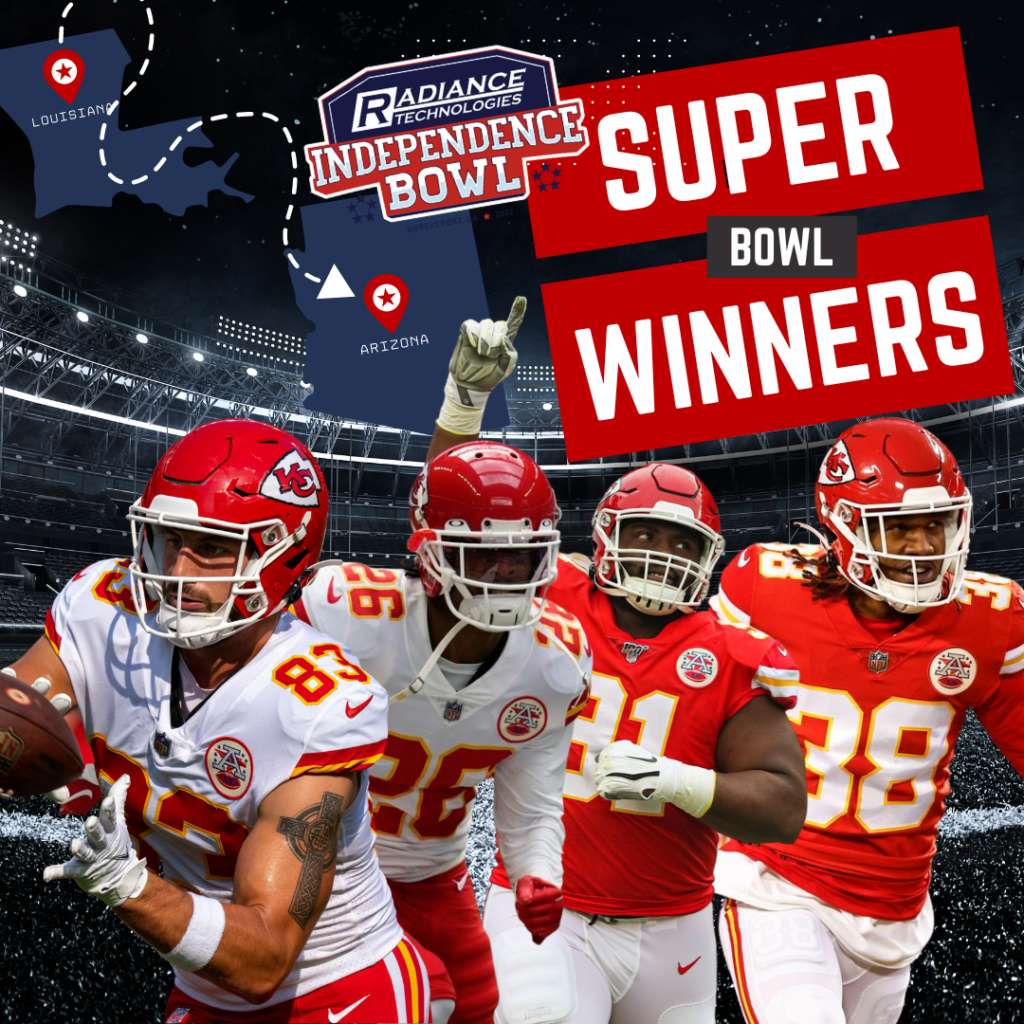 SHREVEPORT, La. (Feb. 14, 2023) – Six former Radiance Technologies Independence Bowl players appeared in Super Bowl LVII on Sunday. Four added their names to the list of Super Bowl champions for the Kansas City Chiefs.
Chiefs' defensive back L'Jarius Sneed, defensive tackle Derrick Nnadi, defensive back Deon Bush and tight end Noah Gray came away as Super Bowl champions. For Nnadi, it was his second Super Bowl victory in three trips. Sneed lifted the Lombardi Trophy for the first time after losing to the Tampa Bay Buccaneers in Super Bowl LV in 2021. 
How did the Independence Bowl alumni fare in Super Bowl LVII?
Three of the six Independence Bowl alumni to play in Super Bowl LVII started – Gray, Nnadi and Sneed for Kansas City. Sneed posted the most impressive numbers, as he recorded three solo tackles, seven combined tackles and two passes defended. Playing in two-tight end sets, Gray caught one pass for six yards. Nnadi and Bush did not record any stats but played over 20 snaps apiece. For the Philadelphia Eagles, former Louisiana Tech defensive tackle Milton Williams had one solo tackle, while former Southern Miss wide receiver Quez Watkins had one catch for eight yards.
Four Independence Bowl Alumni Make First Super Bowl Appearance
Nnadi made his third Super Bowl appearance, and Sneed made his second appearance. Gray, Bush, Williams and Watkins played in their first Super Bowl. With adding four names to the list, there have now been 115 players that have played in both the Independence Bowl and Super Bowl.
Five Different Independence Bowl Teams Represented in Super Bowl LVII
The six players represented five Independence Bowl teams – 2014 Miami, 2017 Florida State, 2017 Southern Miss, 2018 Duke and 2019 Louisiana Tech. The 2019 Bulldogs are the lone team with two representatives – Sneed and Williams. Four Independence Bowl matchups were represented – 2014, 2017, 2018 and 2019.
ABOUT THE RADIANCE TECHNOLOGIES INDEPENDENCE BOWL™
Established in 1976, the Radiance Technologies Independence Bowl™ is college football's 11th most-historic bowl game – celebrating its 47th edition in 2023. The Houston Cougars defeated the Louisiana Ragin' Cajuns 23-16 in the 46th playing of the bowl in 2022. The Independence Bowl Foundation announced a one-year extension with Radiance Technologies – ensuring they will be the title sponsor through 2025. The bowl's conference, team, and television agreements also run through the 2025 season. Army West Point and BYU are slated to match up against a rotation of the Pac-12 Conference, American Athletic Conference and Conference USA, which will be televised on an ESPN network.
The Independence Bowl Foundation is prevalent in the Shreveport-Bossier City area throughout the year, hosting events to help enhance the economic impact and growth of our community. The Mission of the Independence Bowl is to attract and provide quality, nationally recognized football competition oriented to the Ark-La-Tex region. For more information, visit RadianceTechnologiesIndependenceBowl.com or follow the bowl on Facebook, Twitter and Instagram at @IndyBowl.
Independence Bowl Foundation
P.O Box 1723, Shreveport LA 71166  |  401 Market Street, Shreveport, LA 71101  |  318.221.0712