Inaugural Innovation Bowl Pushes Toward Project Submissions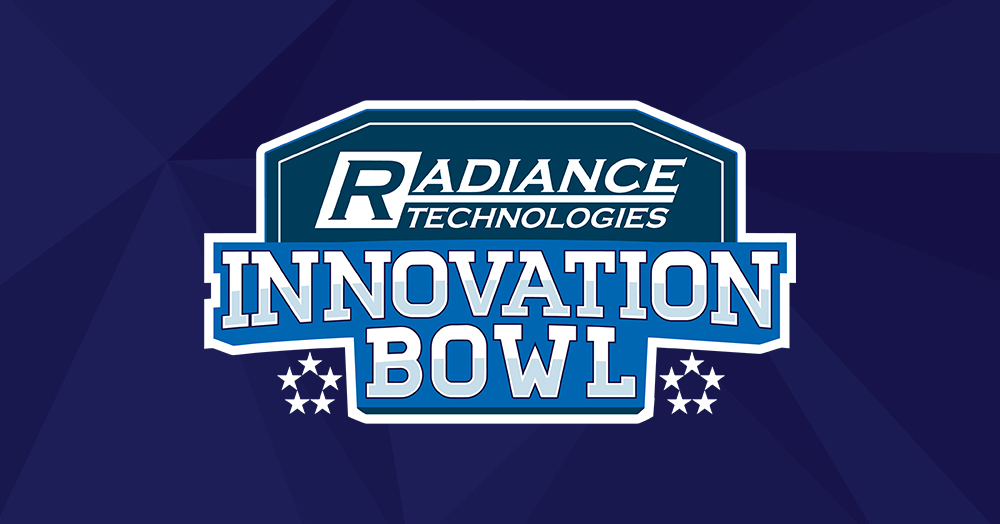 SHREVEPORT, La. (Oct. 27, 2022) – Radiance Technologies and the Independence Bowl Foundation partnered in 2022 to establish a new event with the goal of encouraging innovative approaches to a current research and development topics – the Radiance Technologies Innovation Bowl. The teams for the inaugural Innovation Bowl have been submitted, and there are six teams from four different universities preparing to submit their projects.
The teams competing in the 2022 Radiance Technologies Innovation Bowl are as follows:
University of Alabama at Birmingham

Team Flood

Student Lead:

 

Aishwarya Kaushal
Faculty Lead: Rouzbeh Nazari

Team UHI

Student Lead:

 

Samain Sabrin
Faculty Lead:

 

Maryam Karimi

Team BHAM_CS

Student Lead: Saugat Adhikari
Faculty Lead: Da Yan
Brigham Young University

Team Cougar Cartographers

Student Lead:

 

Alex Long
Faculty Lead:

 

Teresa Gomez
Louisiana Tech University

Team Bulldogs

Student Lead:

 

Beau Bowen
Faculty Lead: Michael Crosby
University of Texas at San Antonio

Team Northern Lights-UTSA

Student Lead: Jurdana Masuma Iqrah
Faculty Lead: Sushil Prasad
The Radiance Technologies Innovation Bowl is an academic competition between schools and conferences affiliated with the Radiance Technologies Independence Bowl – the American Athletic Conference, Army West Point, Brigham Young University, Conference USA and the Pac-12 Conference. Schools will compete for a $25,000 grand prize by developing innovative approaches to a current research and development topic selected by Radiance Technologies. 
Evaluation of submissions is a two-step process where teams submit their ideas and approaches to Radiance Technologies prior to the end of the fall term. Scientists and researchers within Radiance Technologies will pick three finalists, announced at the Radiance Technologies Independence Bowl. These teams will then further develop their ideas in the spring semester through prototypes, models and simulation or experimentation and present their findings in person to a panel of experts. From these live presentations, a winning team will be selected and awarded the $25,000 grand prize.
2022-2023 Topic: How can GEOSPATIAL Intelligence data be used to monitor, assess, and predict the impact of climate change?
Geospatial Intelligence (GEOINT) is the information obtained for a particular geographical location through the exploitation of imagery and geospatial data. GEOINT uses overhead imagery from various Electro Optical/Infrared (EO/IR) sensors (images) combined with imagery analysis (determining what is in the image) and other geospatial data (characteristic reference information for the location, e.g., elevation, road and utility networks, vegetation, population, geodetic data, etc.). This combination provides the situational awareness of what is occurring or changing at a particular location. In this regard, GEOINT can monitor the effects of climate change. For instance, it would be possible to monitor the amount of precipitation within a region and correlate that with water usage to predict potential shortages which may lead to major population disruptions and potential conflicts. This effort is seeking innovative ways and means to employ GEOINT capabilities to monitor climate change.
It seeks not only to identify the effects of climate change but to correlate these events with activities and patterns to predict areas and regions of concern. It is expected that innovative ideas are supported with examples, simulations or other means to validate the approach along with identification of the types of data sources used and accessed.
For more information on the Radiance Technologies Innovation Bowl – including the 2022-2023 topic and rules, visit RadianceTech.com/InnovationBowl.
ABOUT THE RADIANCE TECHNOLOGIES INDEPENDENCE BOWL™:
Established in 1976, the Radiance Technologies Independence Bowl™ is the nation's 11th-oldest bowl game, and the 46th edition will be played on Friday, December 23, 2022 at 2 p.m. CT between Army West Point and a team form the American Athletic Conference. The UAB Blazers defeated the No. 13 BYU Cougars 31-28 in the 45th Radiance Technologies Independence Bowl on Saturday, December 18, 2021. The Independence Bowl Foundation announced a one-year extension with Radiance Technologies – ensuring they will be the title sponsor through 2025. The bowl's conference and team agreements, as well as the television agreement, also run through the 2025 season. Army West Point and BYU are slated to matchup against a rotation of the Pac-12 Conference, American Athletic Conference and Conference USA, which will be televised on an ESPN network.
The Independence Bowl Foundation is prevalent in the Shreveport-Bossier City area throughout the year, hosting events to help enhance the economic impact and growth of our community. The Mission of the Independence Bowl is to attract and provide quality, nationally recognized football competition oriented to the Ark-La-Tex region. For more information, visit RadianceTechnologiesIndependenceBowl.com or follow the bowl on Facebook, Twitter and Instagram at @IndyBowl.
Independence Bowl Foundation
P.O Box 1723, Shreveport LA 71166  |  401 Market Street, Shreveport, LA 71101  |  318.221.0712