NSU/Indy Bowl Kickoff Luncheon Returns on September 2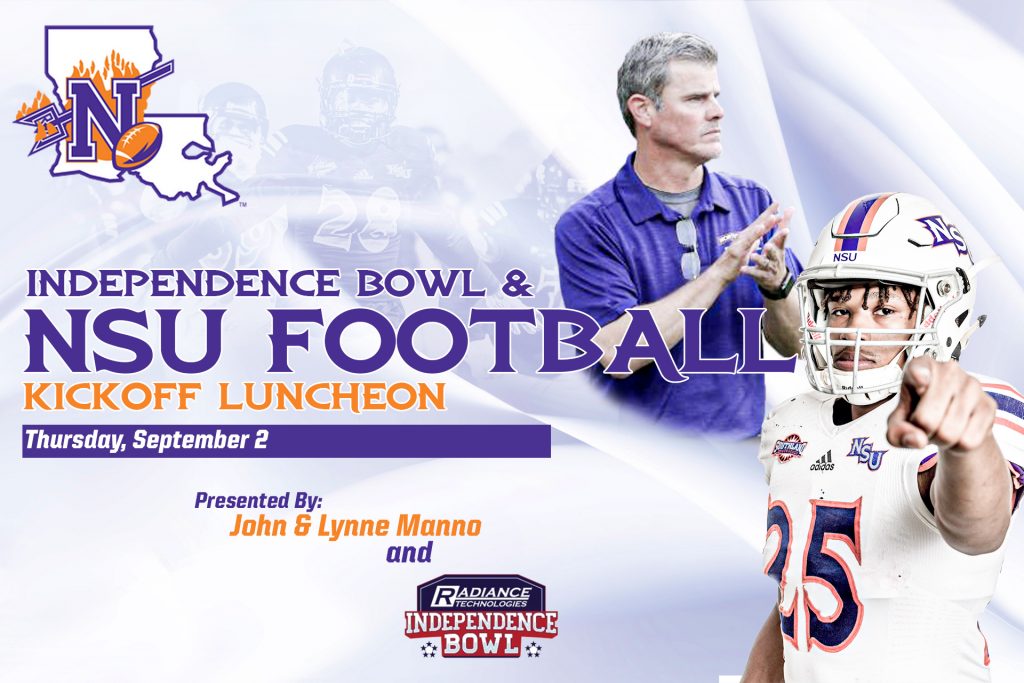 SHREVEPORT, La. (August 12, 2021) – Returning for the first time since 2019, the annual Northwestern State/Radiance Technologies Independence Bowl Kickoff Luncheon, sponsored by John and Lynne Manno, is set for Thursday, September 2 at 11:45 a.m. at Superior's Steakhouse in Shreveport.
"This is one of the events that every year signals the approaching start of football season, which is always an exciting time on campus and among the alumni base," said NSU Director of Athletics Greg Burke. "The Independence Bowl is appreciated for again hosting this gathering as some of NSU's staunchest supporters live in the Shreveport-Bossier market and no doubt will be in attendance. It will be good to connect with them and for them to hear coach Laird's outlook on the 2021 season."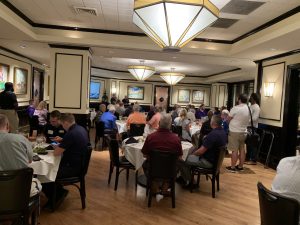 The luncheon is celebrating its 25th anniversary in 2021 and is set for two days before the Demons kick off their 2021 football season against the North Texas Mean Green on Saturday, September 4. As tradition has held for 25 years – NSU head coach Brad Laird and Director of Athletics Greg Burke will be at the annual kickoff event and address the attendees. This luncheon holds a special place in Burke's heart, as the inaugural Independence Bowl/Northwestern State Kickoff Luncheon in 1996 was his first public function as Northwestern State's AD.
"We value our relationship with the Radiance Technologies Independence Bowl and thank them for their continued support of this event," Laird said. "The Shreveport-Bossier City area is full of Northwestern State alumni, and this luncheon has been such an important part of kicking off Demon football seasons for a quarter century. It's always special to be part of the kickoff luncheon with our friends from the Independence Bowl." 
Reservations for the annual luncheon are being accepted now and can be made by contacting the Radiance Technologies Independence Bowl office at 318.221.0712. The all-inclusive lunch is $20 and includes salad, bread, plated meal and dessert. Attendees are asked to bring cash or check to the event.
Radiance Technologies Independence Bowl staff and Independence Bowl Foundation leadership will also be on hand to update the crowd on the foundation and upcoming 2021 Radiance Technologies Independence Bowl – slated for a matchup of BYU against a representative of Conference USA on Saturday, December 18 at 2:30 p.m.
"The inaugural luncheon in 1996 was one of my first events as a member of the Independence Bowl staff, so like Mr. Burke, this event holds a special place in my heart," said Radiance Technologies Independence Bowl Executive Director Missy Setters. "A lot of great people who have been heavily involved in Northwestern State football have helped make the Independence Bowl into what it has become and still help to this day, so we are proud to do our part in helping kick off the NSU football season every year."
For more information on the annual event to help kickoff the Northwestern State Demons' football season, contact the Radiance Technologies Independence Bowl office at 318.221.0712.
ABOUT THE RADIANCE TECHNOLOGIES INDEPENDENCE BOWL™:
Established in 1976, the Radiance Technologies Independence Bowl™ is the nation's 11th-oldest bowl game. The 45th edition is slated to match up BYU and a representative of Conference USA on Saturday, December 18, 2021 at 2:30 p.m. CST on ABC. Louisiana Tech recorded the first shutout in the game's history with a 14-0 victory over Miami in the 44th Independence Bowl in 2019. The Independence Bowl Foundation announced a one-year extension with Radiance Technologies – ensuring they will be the title sponsor through 2025. The bowl's conference and team agreements, as well as the television agreement, also run through the 2025 season. Army West Point and BYU are slated to matchup against a rotation of the Pac-12 Conference, American Athletic Conference and Conference USA, which will be televised on an ESPN network.
The Independence Bowl Foundation is prevalent in the Shreveport-Bossier City area throughout the year, hosting events to help enhance the economic impact and growth of our community. The Mission of the Independence Bowl is to attract and provide quality, nationally recognized football competition oriented to the Ark-La-Tex region. For more information, visit RadianceTechnologiesIndependenceBowl.com or follow the bowl on Facebook, Twitter and Instagram at @IndyBowl.
Independence Bowl Foundation
P.O Box 1723, Shreveport LA 71166  |  401 Market Street, Shreveport, LA 71101  |  318.221.0712