Jimmy Johnson and Alan Faneca Enshrined into Pro Football Hall of Fame
The annual Pro Football Hall of Fame enshrinement in Canton, Ohio featured twice the excitement this past weekend, as both the 2020 and 2021 Pro Football Hall of Fame classes were enshrined due to a pandemic delay in 2020. Two alumni of the Radiance Technologies Independence Bowl were among those enshrined, as Jimmy Johnson and Alan Faneca celebrated the culminating moment of their careers in Canton.
Johnson and Faneca became the fifth and sixth Independence Bowl alumni enshrined into the Pro Football Hall of Fame – joining Bruce Smith (2008 class), Willie Roaf (2009), Art Monk (2012) and Brett Favre (2016). Johnson is the first former Independence Bowl head coach to be inducted into the Pro Football Hall of Fame, while Faneca is the fifth former player. There have also been 20 former Independence Bowl players and coaches inducted into the College Football Hall of Fame.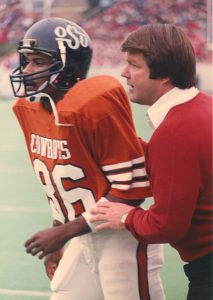 JIMMY JOHNSON (OKLAHOMA STATE, 1981)
Johnson – a member of the 2020 Pro Football Hall of Fame class – was enshrined on Saturday night. Johnson led both the Dallas Cowboys and the Miami Dolphins in his time as a head coach in the National Football League (NFL). In his nine-year NFL coaching career, Johnson sported an overall record of 89-68, won two Super Bowl titles and was named the NFL Coach of the Year by the Associated Press in 1990.
The former Miami Hurricanes and Oklahoma State Cowboys head coach took over a Cowboys team that went 1-15 and led them to the playoffs in just three years. The Texas native became the first coach to ever win both a college football National Championship and Super Bowl – defeating the Buffalo Bills 52-17 in Super Bowl XXVII in 1993. The following year, he became just the fourth coach to win back-to-back Super Bowl titles – reigning victorious over the Buffalo Bills once again by score of 30-13 in Super Bowl XXVIII.
Johnson led Oklahoma State to the sixth Independence Bowl in 1981 – falling to Texas A&M 33-16. In 1984, he took over as the head coach at the University of Miami. In five seasons, he led the Hurricanes to a 52-9 record and a National Championship in 1987. He left Miami to pursue his NFL coaching career with the Cowboys in 1988. He was inducted into the College Football Hall of Fame in 2012.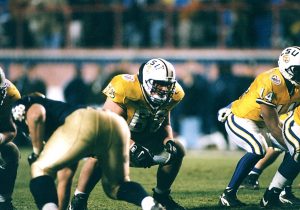 ALAN FANECA (LSU, 1995 AND 1997)
Faneca  – a member of the 2021 class – was enshrined on Sunday night after watching former Pittsburgh Steelers teammate Troy Polamalu and head coach Bill Cowher become enshrined in the 2020 class on Saturday. The New Orleans, La. native was drafted 26th-overall in the first-round of the 1998 NFL Draft by the Steelers and went on to play in 206 games over 13 seasons with the Steelers, New York Jets and Arizona Cardinals.
Missing only one game in his career, Faneca was named first-team All-Pro four times, second-team All-Pro twice, All-AFC seven consecutive seasons and a Pro Bowler nine consecutive seasons. He helped lead some of the most-dominant rushing teams of his era – blocking for teams that finished top 10 in rushing 11 of his 13 season, blocking for nine 1,000 yard rushers and blocking for five 3,000 yard passers. He was earned All-Rookie honors in 1998 and was named to the NFL's All-Decade Team of the 2000s, but above all else, he was an integral part of leading the Steelers to a Super Bowl title in 2005 in Super Bowl XL.
Faneca, who was born six days before the inaugural Independence Bowl, on December 7, 1976, started and was victorious in two Independence Bowls for LSU in the 1990s. He anchored an offensive line that led to two of the best rushing performances in Independence Bowl history in 1995 and 1997. Kevin Faulk rushed for 234 yards in 1995 to defeat Michigan State, and Rondell Mealey rushed for 222 yards to help defeat Notre Dame in 1997 – both with Faneca as the starting right guard for LSU.
ABOUT THE RADIANCE TECHNOLOGIES INDEPENDENCE BOWL™:
Established in 1976, the Radiance Technologies Independence Bowl™ is the nation's 11th-oldest bowl game. The 45th edition is slated to match up BYU and a representative of Conference USA on Saturday, December 18, 2021 at 2:30 p.m. CST on ABC. Louisiana Tech recorded the first shutout in the game's history with a 14-0 victory over Miami in the 44th Independence Bowl in 2019. The Independence Bowl Foundation announced a one-year extension with Radiance Technologies – ensuring they will be the title sponsor through 2025. The bowl's conference and team agreements, as well as the television agreement, also run through the 2025 season. Army West Point and BYU are slated to matchup against a rotation of the Pac-12 Conference, American Athletic Conference and Conference USA, which will be televised on an ESPN network.
The Independence Bowl Foundation is prevalent in the Shreveport-Bossier City area throughout the year, hosting events to help enhance the economic impact and growth of our community. The Mission of the Independence Bowl is to attract and provide quality, nationally recognized football competition oriented to the Ark-La-Tex region. For more information, visit RadianceTechnologiesIndependenceBowl.com or follow the bowl on Facebook, Twitter and Instagram at @IndyBowl.
Independence Bowl Foundation
P.O Box 1723, Shreveport LA 71166  |  401 Market Street, Shreveport, LA 71101  |  318.221.0712