Joseph M. Cosumano, Jr. to Receive 2020 Omar N. Bradley "Spirit of Independence" Award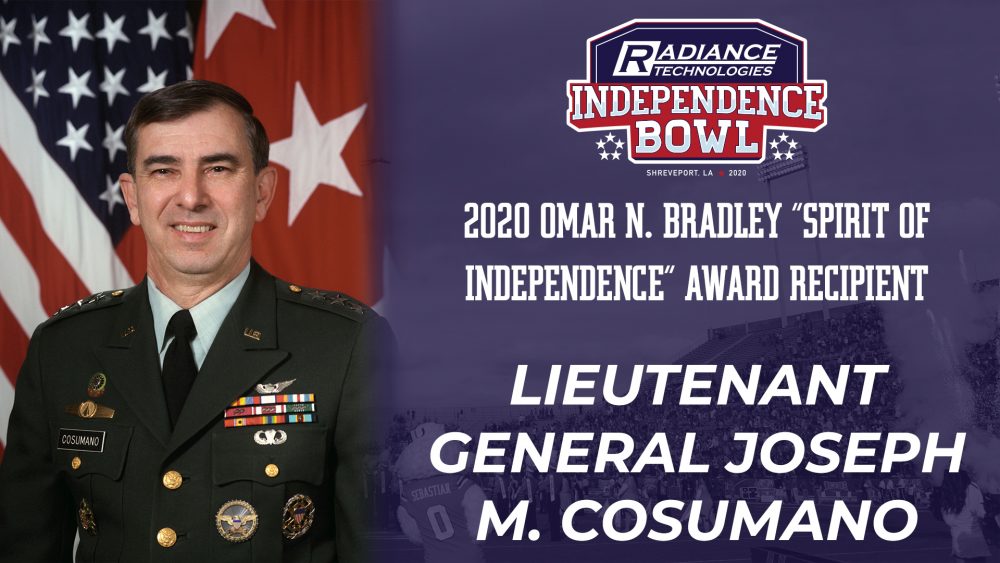 Some of America's most outstanding and decorated citizens and groups have been honored with the Omar N. Bradley "Spirit of Independence" Award – presented each year at the Radiance Technologies Independence Bowl, and the Independence Bowl Foundation has selected retired United States Army Lieutenant General Joseph M. Cosumano, Jr. (KOZ-ooh-mon-oh) as the 44th recipient of the prestigious award.
"General Cosumano is one of the greatest patriots I have ever known," said Radiance Technologies CEO Bill Bailey. "I watched Joe lead the Army's Space and Missile Defense Command to accomplish amazing technologies to protect the American citizens. He very much deserves this recognition. He is a Shreveport native that has served our country with honor and distinction."
LTG Cosumano – a graduate of Northwestern State University – served in the U.S. Army from 1968 to 2004, and has been honored with a plethora of decorations throughout his career. In his 35 years of service, he was honored with the Defense Distinguished Service Medal, Army Distinguished Service Medal, Defense Superior Service Medal, Legion of Merit with two Bronze Oak Leaf Clusters, Meritorious Service Medal with three Bronze Oak Leaf Clusters, Army Commendation Medal with three Bronze Oak Leaf Clusters, and National Defense Service Medal with Bronze Service Star. The Bronze Oak Leaf Cluster denotes receiving each respective award multiple times.
"I am honored to have served with and for the men and women of the greatest Military on Earth," noted LTG Cosumano. "I accept this award on their behalf, as it represents all their sacrifices and those of their families to keep America and the world safe!"
"General Cosumano is exactly the type of service-oriented, dedicated, independent-thinking patriot we wish to honor with the Spirit of Independence Award," remarked 2020 Independence Bowl Foundation Chairman Frank Auer. "He is also one of ours. We are so fortunate to have a favorite son who has achieved so much and represented us and our nation so well. We are delighted to present this award in appreciation for General Cosumano's lasting contributions to our country."
Cosumano began his path to a military career at Northwestern State – where he earned both his undergraduate and graduate degrees, while also being in the Reserve Officers' Training Corps. He later received his commission in the U.S. Army as Second Lieutenant through the program, beginning his 35 years of military service.
The multitude of accomplishments and successes in LTG Cosumano's U.S. Army career are headlined by his efforts to lead the U.S. military equipment and defenses into the 21st century. He was the chief of the Army's Force Modernization program, where he was responsible for the requirements and funding of all Army equipment and equipping and designing all organizations of the Army. Along with that, he also was the Director of the Objective Force Task Force to develop requirements, technology and resources for the Army in the 21st century.
LTG Cosumano was also the program manager of the National Missile Defense – initiating, funding and bringing under contract the most challenging Department of Defense program in record time. The program was designed to defend the U.S. against intercontinental ballistic missile (ICBM) attacks. It was fielded just seven years after its inception in 2004, which is 11 years quicker than average Department of Defense programs of this size are fielded.
His final assignment in the Army was as the Commanding General of the Space and Missile Defense Command (SMDC) and the U.S. Army Space Command. In this role, he led the organization that was tasked to support war fighters. The organization was also responsible for developing the space and missile defense programs, with over 2,000 scientists and engineers in Huntsville, Ala.
Following his decorated military career, Cosumano was the Senior Vice President of Strategy and Business Development for ATK Thiokol from 2004 to 2005. In this role, he was tasked with developing a new strategy plan for the company following the elimination of the Shuttle Program, and he identified Thiokol products that became a part of NASA's new ARES program and ICBM upgrade programs for the Navy and Air Force.
From 2005 to 2008, Cosumano served as the Senior Vice President of Kellogg Brown and Root. At KBR, LTG Cosumano helped a company that was on the brink of default on several Department of Defense projects and helped the organization surge to 64,000 employees worldwide and greater than $5 billion annually in revenue. Some of the key projects and programs under Cosumano were Logistics and Engineering across Iraq and Afghanistan (LOGCAP) and Restoration of Iraq Oil.
Following his time at KBR, Cosumano spent 2008 to 2011 as the President and CEO of Agility Defense and Government Services. At Agility, he established policies and procedures for the small, family-owned business to establish a Special Security Arrangement (SSA) – firewall required by the Department of Defense to operate in the U.S. Defense Market. Cosumano set up a strategic plan and board of directors that facilitated rapid growth and a strong business network with high-level defense companies.
Cosumano's final role was as the President and CEO of the CFD Research Corporation in Huntsville, Ala. from 2013 to 2016. He led one of the nation's top research and development companies – leveraging the company's aerospace high-fidelity modeling knowledge to apply it to bio-technical and bio-medical solutions. Cosumano has served as a CFD board member from 2016-2020.
LTG Cosumano will accept the 2020 Omar N. Bradley "Spirit of Independence" Award at the 2020 Radiance Technologies Independence Bowl.
General Omar N. Bradley was the first recipient of the "Spirit of Independence Award," and presented it each year until his death, after which his name was added to the award.
Since the award's inception, this honor has been bestowed upon outstanding American citizens, or organizations, which symbolize the spirit of freedom and independence on which the United States of America was founded. Some past recipients include: John Wayne, Bob Hope, Ronald Reagan, and recently, the Tuskegee Airmen, the Berlin Airlift Veterans, Veterans of the Battle of Chosin Reservoir, retired Marine Corporal Jacob P. Schick, Brigadier General Jeannie M. Leavitt and retired Air Force Lieutenant General James M. Kowalski.
ABOUT THE RADIANCE TECHNOLOGIES INDEPENDENCE BOWL:
The Radiance Technologies Independence Bowl – college football's 11th-oldest bowl game – played its 44th-edition on December 26, 2019.  Louisiana Tech recorded the first shutout in the game's history with a 14-0 victory over Miami. The Independence Bowl Foundation announced a five-year agreement with Huntsville, Ala.-based Radiance Technologies to be the game's title sponsor on April 21, 2020 and announced new primary agreements in January 2020 that will bring a rotation of Army West Point and BYU to Shreveport to face off against a rotation of the Pac-12 Conference, American Athletic Conference and Conference USA.
The Independence Bowl Foundation is prevalent in the Shreveport-Bossier City area throughout the year, hosting events to help enhance the economic impact and growth of our community. The Mission of the Independence Bowl is to attract and provide quality, nationally recognized football competition oriented to the Ark-La-Tex region. For more information, visit RadianceTechnologiesIndependenceBowl.com or follow the bowl on Facebook, Twitter and Instagram at @IndyBowl.
Independence Bowl Foundation
P.O Box 1723, Shreveport LA 71166  |  401 Market Street, Shreveport, LA 71101  |  318.221.0712