I-Bowl Alumni Abundant on 2020 NFL Rosters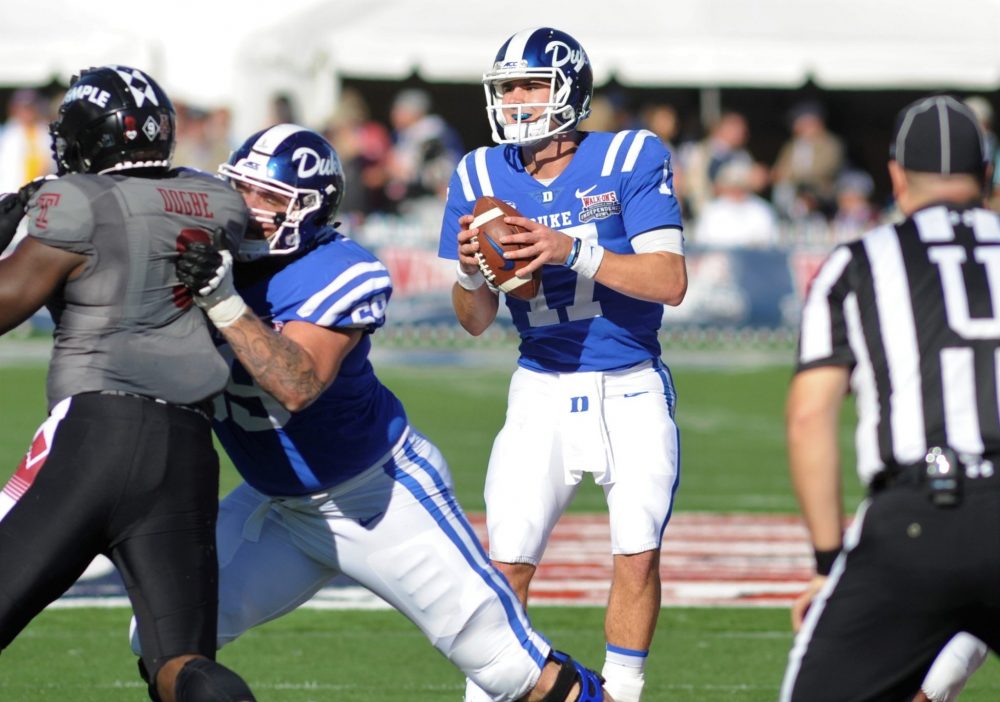 The National Football League (NFL) kicked off the 2020 season on Thursday night, as the reigning Super Bowl champion Kansas City Chiefs defeated the Houston Texans. The remaining 30 teams in the league will start their seasons on Sunday and Monday.
The Radiance Technologies Independence Bowl is heavily represented throughout the NFL's 53-man final rosters – with 80 players who appeared in the annual Shreveport-Bossier City bowl game finding themselves on NFL rosters. The Cincinnati Bengals and Carolina Panthers roster the most Independence Bowl alumni – each with seven players. AFC South foes, the Jacksonville Jaguars and Tennessee Titans, each feature six I-Bowl alumni. Bill Belichick has five former Independence Bowl stars on the New England Patriots 53-man roster, while the Denver Broncos and Los Angeles Chargers each have four.
NC State leads the charge in most I-Bowl alumni in the NFL with 12 players, while their counterpart in 2016, Vanderbilt, has seven players that appeared in the I-Bowl on NFL rosters. That 2016 matchup between NC-State and Vanderbilt is the most represented with 19 I-Bowl alumni. Miami is represented by 10 players – eight from the 2014 appearance and two from 2019. South Carolina played Miami in the 2014 Independence Bowl and is represented by seven total players – six from 2014 and one from 2005. Virginia Tech's 2015 team has seven players on NFL rosters, while Florida State's 2017 team is represented by six I-Bowl alumni. The 2009 matchup of Georgia and Texas A&M had nine players that appeared in the game on NFL rosters – six from Georgia and three from Texas A&M.
The 2019 Independence Bowl is represented by three players – Miami captains Shaw Quarterman and K.J. Osborn, as well as Louisiana Tech DB L'Jarius Sneed. Sneed recorded his first career interception in his first career game for the Kansas City Chiefs in Thursday's season opener.
Six Indy Bowl alumni on 2020 53-man rosters have been named NFL All-Pro in their careers – A.J. Green, Geno Atkins, Justin Houston, Jonathan Joseph, Von Miller and Jason Peters – and three more have made at least one Pro Bowl – Tremaine Edmunds, Sheldon Richardson and Ryan Tannehill. Edmunds, Tannehill and Miller all made the 2019 Pro Bowl. The oldest I-Bowl alumni in the NFL is Philadelphia Eagles tackle Jason Peters, who played in the 2003 Independence Bowl for Arkansas.
Below is the full list of all 80 Radiance Technologies Independence Bowl alumni on 2020 NFL final rosters (players on IR represented with ***):
Mitch Morse – Buffalo Bills, C (Missouri, 2011)
Tremaine Edmunds – Buffalo Bills, MLB (Virginia Tech, 2015)
Isaiah Ford – Miami Dolphins, WR (Virginia Tech, 2015)
Ereck Flowers – Miami Dolphins, G (Miami, 2014)
Braxton Berrios – New York Jets, WR (Miami, 2014)
Damiere Byrd – New England Patriots, WR (South Carolina, 2014)
Jakobi Meyers – New England Patriots, WR (NC State, 2016)
Ryan Izzo – New England Patriots, TE (Florida State, 2017)
Adam Butler – New England Patriots, DT (Vanderbilt, 2016)
Joejuan Williams – New England Patriots, CB (Vanderbilt, 2017)
Jimmy Smith – Baltimore Ravens, CB (Colorado, 2007)
Ryan Finley – Cincinnati Bengals, QB (NC State, 2016)
Giovani Bernard – Cincinnati Bengals, RB (North Carolina, 2011)
A.J. Green – Cincinnati Bengals, WR (Georgia, 2009)
Auden Tate – Cincinnati Bengals, WR (Florida State, 2017)
Geno Atkins – Cincinnati Bengals, DT (Georgia, 2009)
Shawn Williams – Cincinnati Bengals, S (Georgia, 2009)
Randy Bullock – Cincinnati Bengals, K (Texas A&M, 2009)
Wyatt Teller – Cleveland Browns, G (Virginia Tech, 2015)
Sheldon Richardson – Cleveland Browns, DT (Missouri, 2011)
Jaylen Samuels – Pittsburgh Steelers, RB (NC State, 2016)
Terrell Edmunds – Pittsburgh Steelers, S (Virginia Tech, 2015)
Duke Johnson – Houston Texans, RB (Miami, 2014)
Cornell Armstrong – Houston Texans, CB (Southern Miss, 2017)
Nyheim Hines – Indianapolis Colts, RB (NC State, 2016)
Taylor Stallworth – Indianapolis Colts, DT (South Carolina, 2014)
Justin Houston – Indianapolis Colts, DE (Georgia, 2009)
A.J. Cann – Jacksonville Jaguars, G (South Carolina, 2014)
Will Richardson – Jacksonville Jaguars, T (NC State, 2016)
Abry Jones – Jacksonville Jaguars, DT (Georgia, 2009)
Shaq Quarterman – Jacksonville Jaguars, LB (Miami, 2019)
Tre Herndon – Jacksonville Jaguars, CB (Vanderbilt, 2016)
Josh Jones – Jacksonville Jaguars, S (NC State, 2016)
Ryan Tannehill – Tennessee Titans, QB (Texas A&M, 2009)
Khari Blasingame – Tennessee Titans, RB (Vanderbilt, 2016)
Ben Jones – Tennessee Titans, C (Georgia, 2009)
Jonathan Joseph – Tennessee Titans, CB (South Carolina, 2005)
Beau Brinkley – Tennessee Titans, LS (Missouri, 2011)
Bradley Chubb – Denver Broncos, OLB (NC State, 2016)
Von Miller – Denver Broncos, OLB (Texas A&M, 2009)***
Jeremiah Attaochu – Denver Broncos, LB (Georgia Tech, 2010)
Kareem Jackson – Denver Broncos, CB (Alabama, 2007)
Derrick Nnadi – Kansas City Chiefs, NT (Florida State, 2017)
L'Jarius Sneed – Kansas City Chiefs, DB (Louisiana Tech, 2019)
Justin Jones – Los Angeles Chargers, DT (NC State, 2016)
Denzel Perryman – Los Angeles Chargers, MLB (Miami, 2014)
Brandon Facyson – Los Angeles Chargers, CB (Virginia Tech, 2015)
Mike Badgley – Los Angeles Chargers, K (Miami, 2014)
A.J. Cole – Los Vegas Raiders, P (NC State, 2016)
Daniel Jones – New York Giants, QB (Duke, 2018)
B.J. Hill – New York Giants, DE (NC State, 2016)
Jason Peters – Philadelphia Eagles, T (Arkansas, 2003)
Shaun Bradley – Philadelphia Eagles, LB (Temple, 2018)
Isaiah Wright – Washington Football Team, WR (Temple, 2018)
Kevin Pierre-Louis – Washington Football Team, LB (Boston College, 2013)
Greg Stroman – Washington Football Team, CB (Virginia Tech, 2015)
Deon Bush – Chicago Bears, DB (Miami, 2014)
Chase Daniel – Detroit Lions, QB (Missouri, 2011)
Will Harris – Detroit Lions, S (Boston College, 2013)
Oren Burks – Green Bay Packers, ILB (Vanderbilt, 2017)
K.J. Osborn – Minnesota Vikings, WR (Miami, 2019)
Garrett Bradbury – Minnesota Vikings, C (NC State, 2016)
Ito Smith – Atlanta Falcons, RB (Southern Miss, 2017)
Matt Hennessy – Atlanta Falcons, C (Temple, 2018)
Mike Davis – Carolina Panthers, RB (South Carolina, 2014)
Pharoh Cooper – Carolina Panthers, WR (South Carolina, 2014)
Brian Burns – Carolina Panthers, LB (Florida State, 2017)
Corn Elder – Carolina Panthers, CB (Miami, 2014)
Tre Boston – Carolina Panthers, S (North Carolina, 2011)
Sam Franklin – Carolina Panthers, S (Temple, 2018)
Joey Slye – Carolina Panthers, K (Virginia Tech, 2015)
Derrick Kelly – New Orleans Saints, T (Florida State, 2017)
Trent Sherfield – Arizona Cardinals, WR (Vanderbilt, 2016)
Cam Akers – Los Angeles Rams, RB (Florida State, 2017)
John Johnson – Los Angeles Rams, S (Boston College, 2013)
Justin Skule – San Francisco 49ers, T (Vanderbilt, 2016)
Kentavius Street – San Francisco 49ers, DE (NC State, 2016)
Tarvarius Moore – San Francisco 49ers, DB (Southern Miss, 2017)
Phillip Dorsett – Seattle Seahawks, WR (Miami, 2014)
Brandon Shell – Seattle Seahawks, T (South Carolina, 2014)
Independence Bowl Foundation
P.O Box 1723, Shreveport LA 71166  |  401 Market Street, Shreveport, LA 71101  |  318.221.0712