Independence Bowl Gearing Up for Kid Combine at Crawfest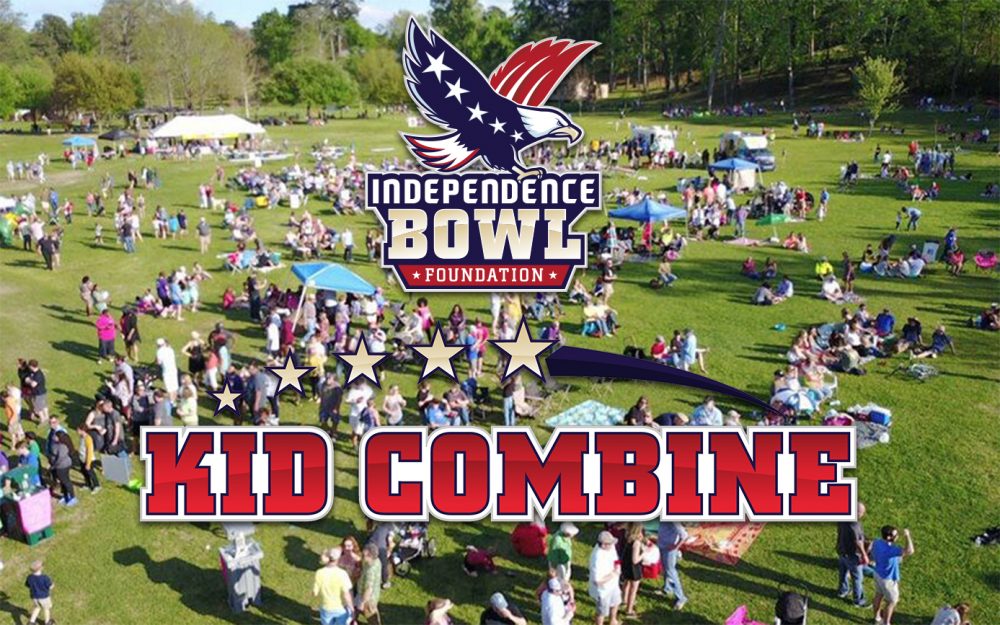 UPDATE (March 16): Crawfest 2020 at Betty Virginia Park has been postponed. For updates on the event, follow the Crawfest Facebook page @CrawfestShreveport.
The first Independence Bowl Foundation event on the slate for 2020 is the fourth-annual Kid Combine at Crawfest on Friday and Saturday, March 20 and 21. The Kid Combine will be from 5 p.m. to 7:30 p.m. on Friday night and 10 a.m. to 6 p.m. on Saturday.
Kid Combine takes aspects of the NFL Scouting Combine, such as the 40-yard dash and shuttle drill, and allows youth ranging from ages five to 13 to compete in similar events. The event comprises of four drills – The 40, The Shuttle, The Throw and The Tackling Bags. The top performers from the competition at Crawfest will have the opportunity to compete on the Independence Stadium field during the 2020 Independence Bowl. The Independence Bowl has once again partnered with D1 Training to assist in operating the Kid Combine.
TICKET RENEWALS AT CRAWFEST
Fans that renew their Independence Bowl tickets at Crawfest will have the $15 processing fee on the order waived and will receive a coupon for a free quesadilla from Dilla's Quesadillas. Further information, including dates and deadlines, on ticket renewals and public ticket sales for the 2020 Independence Bowl will be released at a later date.
FOURTH-ANNUAL CRAWFEST
Gearing up for its fourth year, Crawfest will once again be held at Shreveport's historic Betty Virginia Park on March 20 and 21. The event features live music at the core of the event, with regional and national bands performing both days on two stages. The second stage is being added for the first time this year – dedicated to highlighting Louisiana talent.  In just a few short years, Crawfest has grown from a one-day, one-stage event – to a two-day, two-stage festival – giving patrons a full weekend of live music, food, art, drink and fun in the park.
ABOUT THE INDEPENDENCE BOWL:
The Independence Bowl, the 11th-oldest bowl game, played its 44th-edition on Thursday, December 26, 2019 at Independence Stadium in Shreveport, Louisiana between the Louisiana Tech Bulldogs and Miami Hurricanes. Louisiana Tech earned their third Independence Bowl victory – defeating Miami 14-0 and recording the first shutout in the bowl's history. The Independence Bowl announced new primary agreements in February 2020 that will bring a rotation of Army West Point and BYU to Shreveport to face off against a rotation of the Pac-12 Conference, American Athletic Conference and Conference USA . The Independence Bowl Foundation is prevalent in the Shreveport-Bossier City area throughout the year, hosting events to help enhance the economic impact and growth of our community. For more information, visit IndependenceBowl.org or follow the bowl on Facebook, Twitter and Instagram at @IndyBowl.
Independence Bowl Foundation
P.O Box 1723, Shreveport LA 71166  |  401 Market Street, Shreveport, LA 71101  |  318.221.0712