2020-2025 Bowl Tie-Ins Notes & Quotes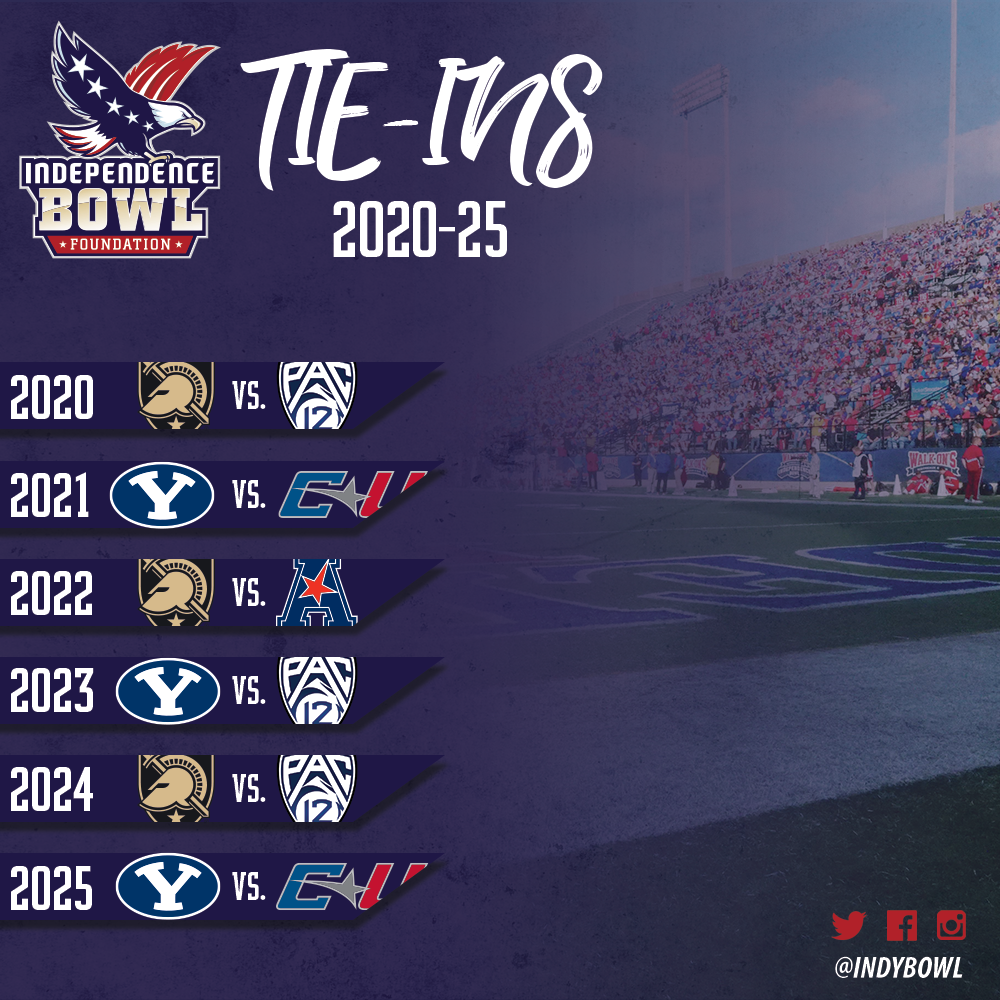 College football's 11th-oldest bowl game announced last Thursday that a new chapter will be written beginning in 2020, as the Independence Bowl's matchups going forward will feature a rotation of the Pac-12 Conference, American Athletic Conference (AAC) and Conference USA (C-USA), as well as nationally respected independent programs Army West Point (Army) and Brigham Young University (BYU). The new rotation is a six-year deal that will bring teams to Shreveport from 2020 through 2025.  
MATCHUP BREAKDOWN
Provided each primary tie-in gains bowl eligibility in the designated season, the matchups for each year from 2020-2025 will be:
2020: Army vs. Pac-12
2021: BYU vs. C-USA
2022: Army vs. AAC
2023: BYU vs. Pac-12
2024: Army vs. Pac-12
2025: BYU vs. C-USA
In the AAC's selection order, the Independence Bowl will select fourth after potential New Year's Six and Liberty Bowl selections. All selections will factor match-up and geography, among other factors.
The remainder of the Pac-12 bowl lineup, including selection order, will be announced at a later date, as will Conference USA's future bowl lineup.
PAC-12
"The Pac-12 Conference is excited to expand its lineup of bowl games to include the Independence Bowl,"  said Pac-12 Deputy Commissioner and Chief Operating Officer Jamie Zaninovich. "We have had considerable success in Shreveport, most recently when Arizona defeated Boston College in 2013, and our schools and their fans look forward to once again experiencing the local support and hospitality of the Shreveport-Bossier community."
The Pac-12 has competed in the Independence Bowl on four occasions, with the most recent appearance being Arizona in 2013. That was the conference's first appearance in the game since Oregon in 1992.
Oregon has made the most appearances, sporting a 1-1 record in two appearances in 1989 and 1992. The 1989 Independence Bowl, in which Oregon defeated Tulsa 27-24, was the Ducks' first bowl game since the 1963 Sun Bowl. Washington has traveled to Shreveport once, defeating home-state Tulane in the 1987 edition of the game. Colorado faced Alabama in the 2007 Independence Bowl but was a member of the Big 12 at the time.
2019-2020 Bowl Record: 4-3
Member institutions: Arizona, Arizona State, California, Colorado, Oregon, Oregon State, Stanford, UCLA, USC, Utah, Washington, Washington State

 
AMERICAN ATHLETIC CONFERENCE
"We are extremely pleased to partner with the Independence Bowl and to participate in the 2022 game. The Independence Bowl has a proud history and has enjoyed strong support from the greater Shreveport community," said American Athletic Conference Commissioner Mike Aresco. "It has featured outstanding teams and exciting matchups over the years, and The American has enjoyed participating in it. The opportunity to play Army West Point in 2022 is very attractive to the teams in our conference. I want to thank Missy Setters and her staff for their efforts which resulted in our inclusion in the Independence Bowl rotation in 2022."
The American Athletic Conference has been a secondary tie-in for the Independence Bowl since its inception in 2013 and has been represented in the Independence Bowl twice – Tulsa in 2015 and Temple in 2018. Temple lost to Duke in the conference's most recent appearance in the 2018 Walk-On's Independence Bowl. Tulsa played in one of the most memorable Independence Bowls in the 43-year history of the game, falling 55-52 to Virginia Tech in Frank Beamer's final game in 2015. That game holds the I-Bowl record for most combined points (107), touchdowns (14), rushing touchdowns (9), yards (1,161), most points scored in a quarter (45), and the two teams also combined for the most points in a half (76) across all bowl games, all-time.
Current AAC teams have played six times in the Independence Bowl. East Carolina, Temple and Tulane have been featured at Independence Stadium once apiece, while Tulsa has competed in the Independence Bowl three times, including their matchup against McNeese State in the inaugural 1976 Independence Bowl.
The AAC has been featured in the New Year's Six Bowl lineup each of the past three years and four of the last five years. Memphis fell to Penn State in this past season's Cotton Bowl Classic, 53-39. UCF played in the Fiesta Bowl and Peach Bowl in 2017 and 2018, respectively, and Houston appeared in the 2015 Peach Bowl.
2019-2020 Bowl Record: 4-3
Member institutions: Cincinnati, East Carolina, Houston, Memphis, South Florida, SMU, Temple, Tulane, Tulsa, UCF
CONFERENCE USA
"We are pleased to continue our partnership with this outstanding bowl in future years," said C-USA Commissioner Judy MacLeod. "The Independence Bowl fits very well in our conference's geographic footprint and they will do a great job hosting our teams, schools and their fans."
Conference USA has been a secondary tie-in for the Independence Bowl since 2012, sending two teams to Shreveport. Southern Miss was the first – battling Florida State in the first Walk-On's Independence Bowl in 2017, and Louisiana Tech was the most recent – defeating Miami 14-0 in the 2019 Walk-On's Independence Bowl.

 

While only making two official appearances, current C-USA teams have made nine total appearances in the Independence Bowl.

 

Louisiana Tech is tied with Ole Miss for the most appearances in I-Bowl history with five – sporting a 3-1-1 record; Southern Miss has appeared three times with a 2-1 record; and UTEP has appeared in the game once, losing to Southern Miss in 1988.
2019-2020 marks the 25th season for C-USA, which will culminate with the conference's 25th-anniversary on July 1, 2020. Since the league's inception, Conference USA has earned bids to 114 bowl games.
2019-2020 Bowl Record: 3-5
Member institutions: Charlotte, FIU, Florida Atlantic, Louisiana Tech, Marshall, Middle Tennessee, North Texas, Old Dominion, Rice, Southern Miss, UAB, UTEP, UTSA, Western Kentucky
ARMY WEST POINT
"Army football is ecstatic to be partnering with our friends at the Independence Bowl for the next Bowl cycle," said Army West Point Director of Athletics Mike Buddie. "Having played in Shreveport previously, we are well aware of how the community embraces this bowl and our cadet-athletes will thoroughly enjoy the experience.  I want to thank Missy Setters for all of her hard work to make this announcement a reality and we look forward to this opportunity."
In Army West Point's lone appearance in Shreveport, the Black Knights missed a game-tying field goal in the final seconds to fall 29-26 to Auburn in the 1996 Independence Bowl.
The Black Knights appeared in at No. 23 in The Associated Press poll on November 18, 2018, which was their first time in the AP poll since that 1996 Independence Bowl-season. The Black Knights were ranked No. 19 in the final AP poll of the 2018 college football season after an 11-2 season and a 70-14 win over Houston in the Armed Forces Bowl.
Three of Army West Point's eight bowl appearances have come in the past four seasons under head coach Jeff Monken. They have won all three of their most recent bowl appearances and have a 6-2 overall record in eight bowl games.
Army is scheduled to face the Pac-12 in the Independence Bowl twice from 2020-2025. The Black Knights have faced current Pac-12 teams 32 times in their history and have recorded a record of 14-15-3. They have played Washington more than any other Pac-12 team – sporting a 5-7-0 record in 12 contests. They have met up against Oregon twice, with both games ending in a tie.
BYU
"We are grateful for the invitation to participate in multiple Independence Bowl games in Shreveport, Louisiana. It's a historic bowl game with a rich history," said BYU Director of Athletics Tom Holmoe. "It has been a real pleasure working with Independence Bowl Executive Director Missy Setters and ESPN to create this unique opportunity for our football program and our fans throughout the South."
BYU has appeared in 37 bowl games – recording a 15-21-1 record, but they have never played in the Independence Bowl. Their first ever bowl appearance was in the 1974 Fiesta Bowl, in which they fell to Oklahoma State.

 

The Cougars made nine bowl appearances in the past decade and have played in a bowl game 13 of the last 14 years, with 2017 being the only season they did not reach a bowl. The Cougars fell to Hawaii in the 2019 Hawaii Bowl, 38-34.
BYU was the consensus National Champion in the 1984 season, going 13-0 with a Holiday Bowl victory. They also have one Heisman Trophy winner in school history, as Ty Detmer won the award in 1990.
ABOUT THE INDEPENDENCE BOWL:
The Independence Bowl, the 11th-oldest bowl game, played its 44th-edition on Thursday, December 26, 2019 at Independence Stadium in Shreveport, Louisiana between the Louisiana Tech Bulldogs and Miami Hurricanes. Louisiana Tech earned their third Independence Bowl victory – defeating Miami 14-0 and recording the first shutout in the bowl's history. The Independence Bowl announced a primary tie-in with Army West Point in October 2019, and the Black Knights will be featured as a primary tie-in for the 2020, 2022 and 2024 Independence Bowls. The Independence Bowl Foundation is prevalent in the Shreveport-Bossier City area throughout the year, hosting events to help enhance the economic impact and growth of our community. For more information, visit IndependenceBowl.org or follow the bowl on Facebook, Twitter and Instagram at @IndyBowl.
Independence Bowl Foundation
P.O Box 1723, Shreveport LA 71166  |  401 Market Street, Shreveport, LA 71101  |  318.221.0712