Viewership of 2019 Walk-On's Independence Bowl Increases 36 Percent from 2018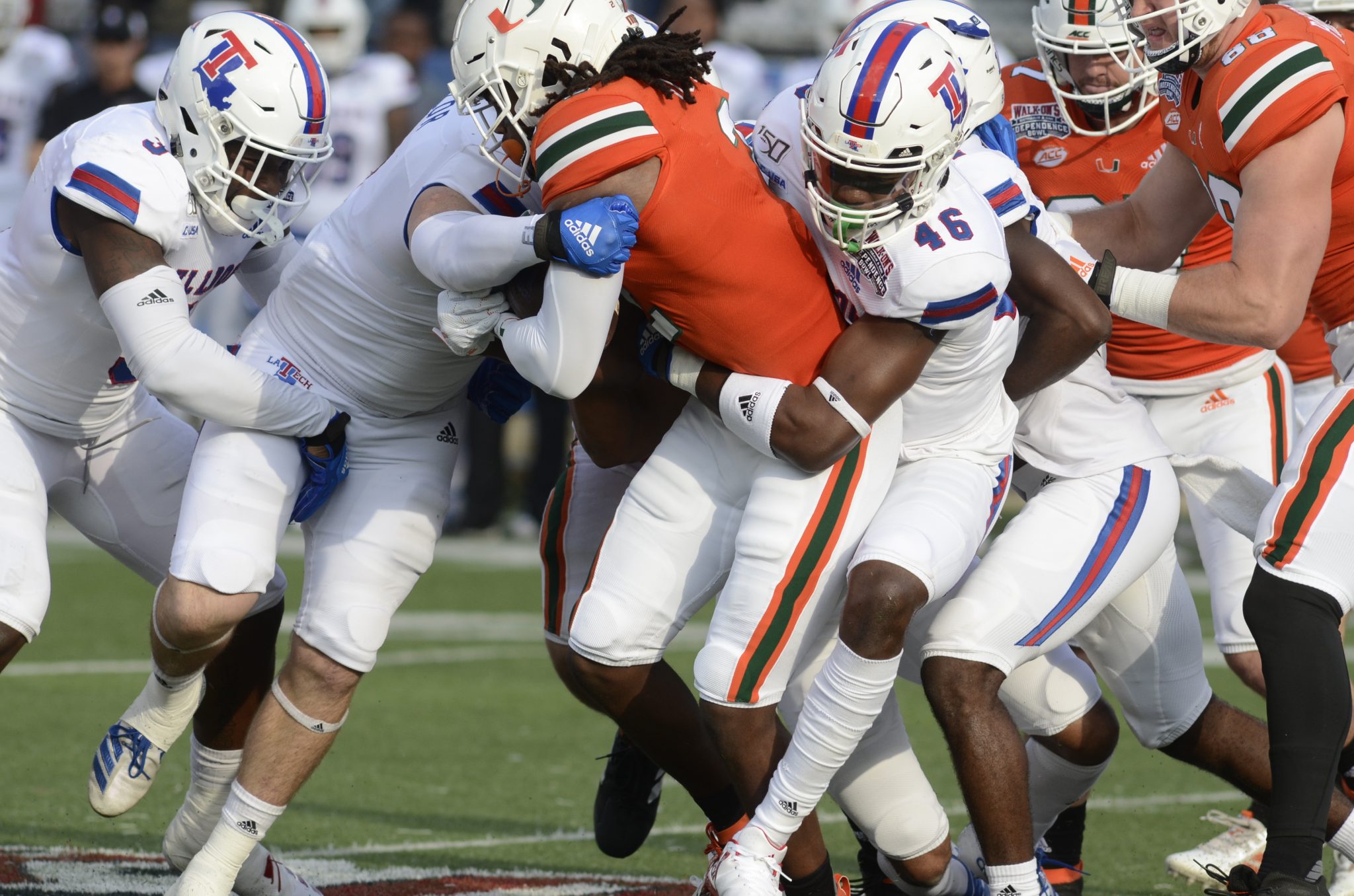 The 2019 Walk-On's Independence Bowl not only saw an increase in attendance, but viewership across ESPN's platforms increased 36 percent from 2018.
Broadcast on the ESPN family of networks for the 28th-consecutive year, the Independence Bowl's 44th-edition featured a total live audience of 2,772,258 – up from 2,037,565 in 2018. The Louisiana Tech Bulldogs defeated the Miami Hurricanes 14-0 and was a one-score game until a J'Mar Smith touchdown run with 1:15 left on the clock.
The matchup between the in-state Bulldogs and nationally-revered Hurricanes also saw an attendance increase of 21 percent – up to 33,129 from 27,492 in the 2018 game between Duke and Temple.
2020 INDEPENDENCE BOWL FOUNDATION EVENTS
The Independence Bowl Foundation will once again host and be involved in numerous events throughout the year in the Shreveport-Bossier City area. The dates for some of the featured events are below:
Kid Combine at Crawfest: March 20-21 at Betty Virginia Park
Annual Crawfish Boil: May 2 at Great Raft Brewing
Kickoff K's 5K and Half Marathon: May 16 at Fern Marketplace
Youth Football Clinic: June 6 at Independence Stadium
Junior Tennis Classic: August 14-17 at Pierremont Oaks Tennis Club
Foundation Fish Fry: August 29 at American Legion Post 14
ABOUT THE INDEPENDENCE BOWL:
The Independence Bowl, the 11th-oldest bowl game, played its 44th-edition on Thursday, December 26, 2019 at Independence Stadium in Shreveport, Louisiana between the Louisiana Tech Bulldogs and Miami Hurricanes. Louisiana Tech earned their third Independence Bowl victory – defeating Miami 14-0 and recording the first shutout in the bowl's history. The Independence Bowl announced a primary tie-in with Army West Point in October 2019, and the Black Knights will be featured as a primary tie-in for the 2020, 2022 and 2024 Independence Bowls. The Independence Bowl Foundation is prevalent in the Shreveport-Bossier City area throughout the year, hosting events to help enhance the economic impact and growth of our community. For more information, visit IndependenceBowl.org or follow the bowl on Facebook, Twitter and Instagram at @IndyBowl.
Independence Bowl Foundation
P.O Box 1723, Shreveport LA 71166  |  401 Market Street, Shreveport, LA 71101  |  318.221.0712