Louisiana Tech Records First Shutout in I-Bowl History in 14-10 Win Over Miami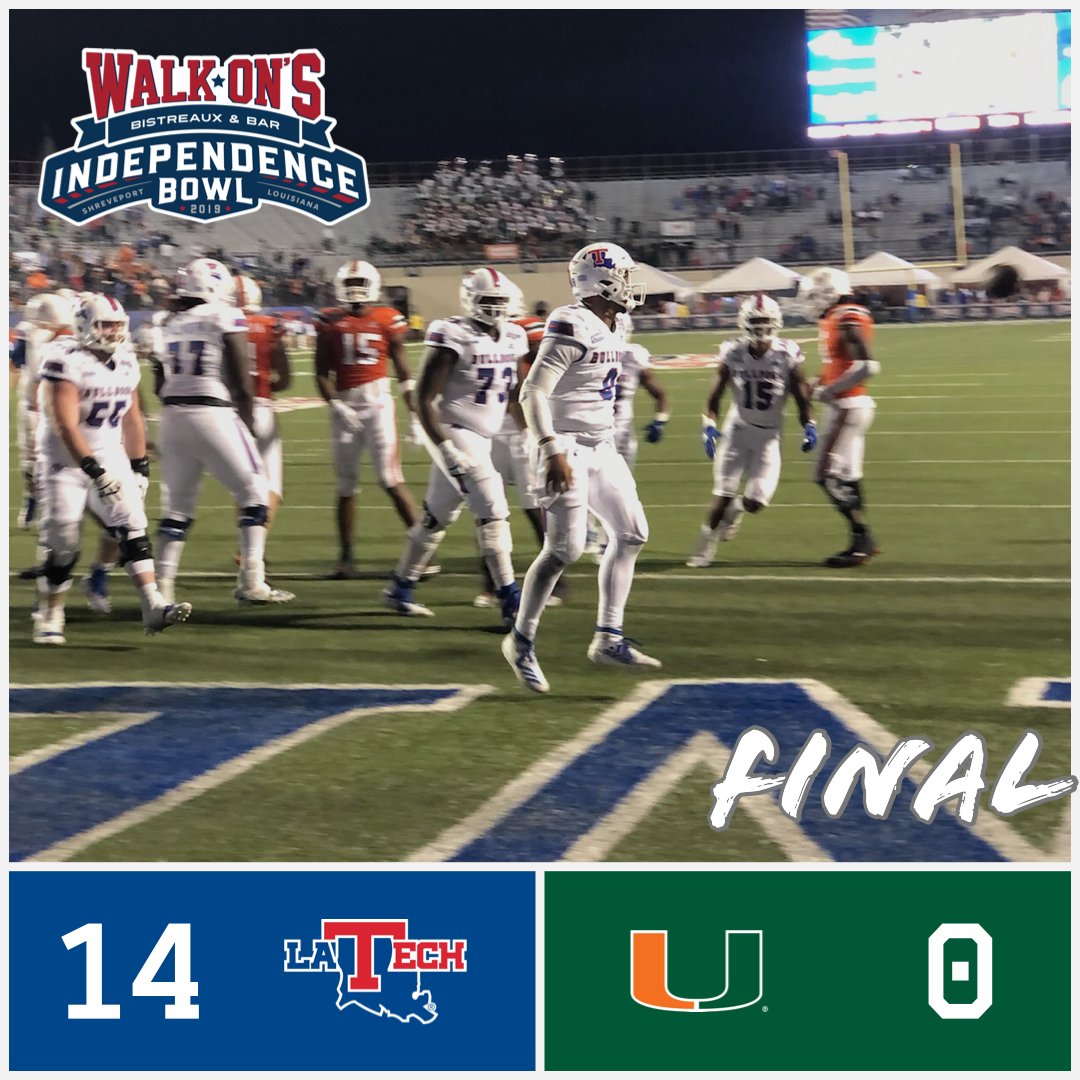 In a game that featured more combined punts than points scored, the Louisiana Tech Bulldogs defeated the University of Miami Hurricanes 14-0 on Thursday in the 2019 Walk-On's Independence Bowl. The shutout by Louisiana Tech was the first shutout in Independence Bowl history.
The teams combined for an Independence Bowl record 18 punts for 751 yards, while the two offenses managed just 564 combined yards of total offense. With nine punts each, both punters, Miami's Lou Hedley and Tech's Brady Farlow, set a new Independence bowl record.
The lone score through 58 minutes of the game came on a 26-yard pass from La. Tech quarterback J'Mar Smith to running back Israel Tucker at the 9:34 mark of the second quarter.
On first down from the Miami 26, Smith eluded the Hurricanes pressure by stepping up in the pocket, and while rolling to his left, completed an off-balance pass to Tucker, who was left all alone in the left flat. Tucker gathered in the pass at the Hurricanes 15-yard line and raced into the end zone for the Bulldogs touchdown. The touchdown pass capped a 13 play, 91-yard drive which consumed 5:18 off the clock.
The Bulldogs put the game away late when Smith plowed his way into the end zone with 1:15 remaining in the game.
Using three quarterbacks – Jarren Williams, N'Kosi Perry and Tate Martell — Miami never threatened in the game as the Hurricanes managed just 227 yards of total offense (74 rushing, 153 passing) in the game. Prior to the final drive of the game, the 'Canes deepest penetration of the game was to the Bulldogs 39. That came after linebacker Gilbert Frierson picked off a Smith pass at the Miami 18 and returned it to midfield.
La. Tech's 14-0 victory was the first shutout in the 44-year history of the Independence Bowl. The 14-combined points are second fewest in bowl history just ahead of the 12 points in Air Force's 9-3 win over Ole Miss in 1983.
Independence Bowl Foundation
P.O Box 1723, Shreveport LA 71166  |  401 Market Street, Shreveport, LA 71101  |  318.221.0712