Independence Bowl Foundation Partners with Impression Sports & Entertainment to Lead Title Sponsor Search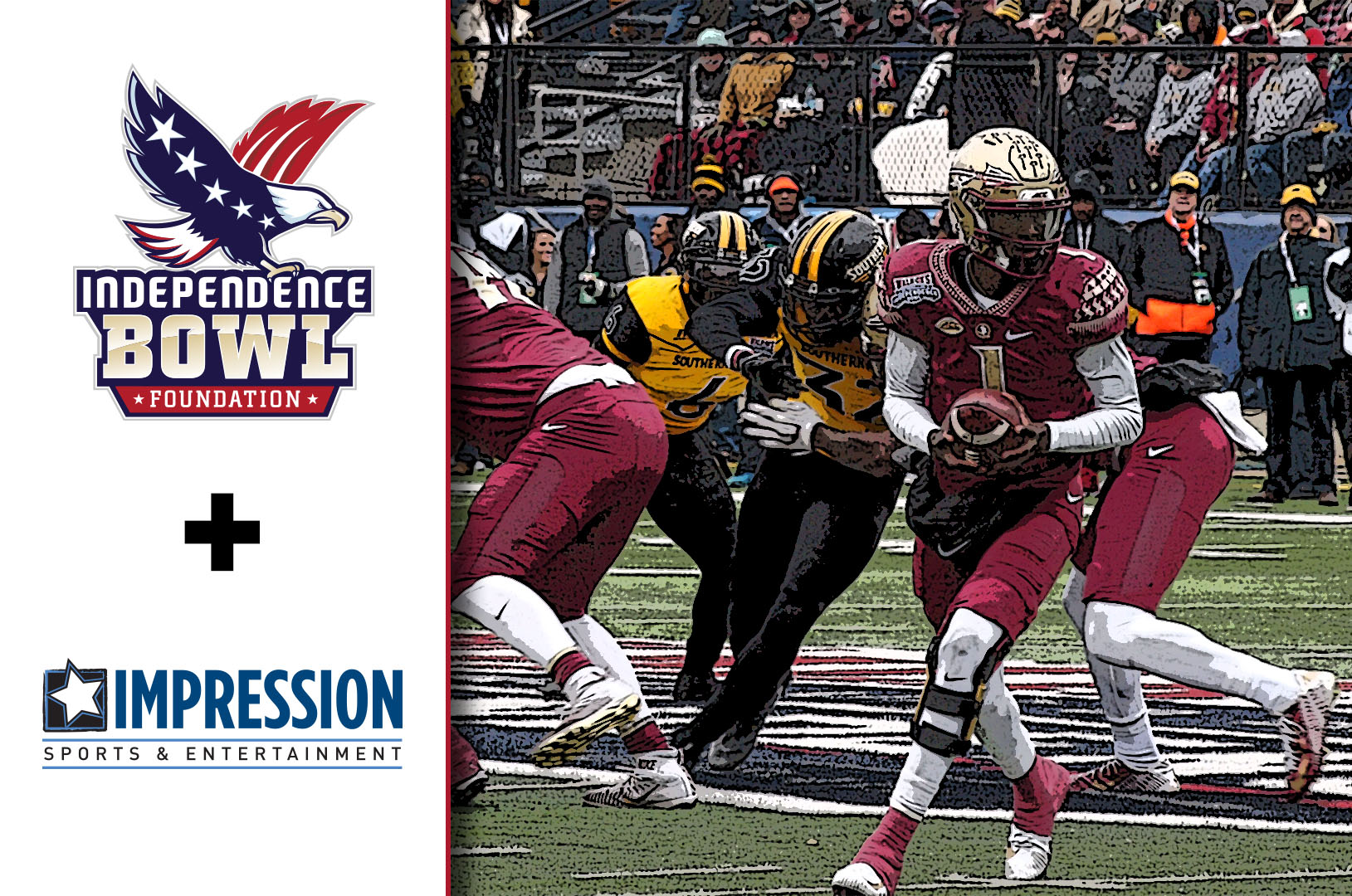 In an effort to secure the next title sponsor of the 11th-oldest college football bowl game, the Independence Bowl Foundation has partnered with Impression Sports & Entertainment to be the exclusive third-party agency in their search.
"Impression Sports & Entertainment's knowledge and experience of not only college football, but the bowl-game industry, is extremely impressive," explained 2019 Independence Bowl Foundation Chairman Art Carmody IV. "They have worked with some of the top brands in the industry and are very accomplished in their ability to connect companies with their clients and deliver results. We are excited to work alongside them as we usher in a new era for the Independence Bowl in 2020."
Impression Sports specializes in selling high-profile, multi-year sponsorship platforms and much of the company's success has been built by securing venue naming rights, pro-team jersey/patch agreements and title sponsorships on behalf of their clients. Within the bowl game landscape, the agency has solidified its best-of-class status after securing four college football bowl game titles over the past 14 months. This partnership with the Independence Bowl will further the success of one of college football's most historic games which provides prominent national television exposure, strong military bonds and traditions, and unique brand activation opportunities to potential sponsors.
"The Independence Bowl is a college football tradition and it is our privilege to once again partner with such a storied sports organization," said Chris Foy, Impression Sports & Entertainment President. "I'm confident that our team will secure a partner that will benefit from the bowl game's national exposure and be aligned with the Independence Bowl Foundation's core values and its mission to positively impact the local community."
The 2020 Independence Bowl will begin a new era for the historic bowl game, as the game will begin a new matchup cycle along with having a new title sponsor. The 2019 Walk-On's Independence Bowl will be the final game with Walk-On's as the title sponsor and with the ACC and SEC as the primary conferences.
ABOUT IMPRESSION SPORTS & ENTERTAINMENT:
Impression Sports & Entertainment (ISE) specializes in providing clients with full-service sponsorship sales representation, sponsorship consulting and venue naming rights services. Founded in 2011, ISE has established itself as one of the leading firms in the industry by working with top organizations including USC, the San Antonio Spurs, Auburn University, the Fiesta Bowl Organization, USA Swimming, Sun Bowl Association and ESPN Events among others. Its management team provides in-depth experience and results-driven success in venue naming rights, title sponsorships and high-profile sales and sponsorship platforms.
Based in Denver, CO, ISE is owned by Home Team Sports (HTS), a sales unit of FOX Sports that offers advertisers one-stop shopping for TV and digital media sponsorship of every MLB, NBA and NHL home team across the U.S., reaching 90+ million homes with its platforms. For more information on Impression Sports, including a complete client roster and testimonials, visit www.impressionsports.com.
ABOUT THE WALK-ON'S INDEPENDENCE BOWL
The Walk-On's Independence Bowl, the 11th-oldest bowl game, will play its 44th-edition on Thursday, December 26, 2019 at 3:00 p.m. CT at Independence Stadium in Shreveport, Louisiana. The Duke Blue Devils won their first Independence Bowl in 2018, defeating the Temple Owls 56-27. The Walk-On's Independence Bowl enjoys primary conference agreements with the Atlantic Coast Conference (ACC) and Southeastern Conference (SEC), as well as backup agreements with the American Athletic Conference (AAC) and Conference USA (C-USA). The Walk-On's Independence Bowl and Independence Bowl Foundation are prevalent in the Shreveport-Bossier City area throughout the year, hosting events to help enhance the economic impact and growth of our community. For more information, visit WalkOnsIndependenceBowl.com or follow the bowl on Facebook, Twitter and Instagram at @IndyBowl.
Independence Bowl Foundation
P.O Box 1723, Shreveport LA 71166  |  401 Market Street, Shreveport, LA 71101  |  318.221.0712